With so many people experiencing intensified stresses and the world struggling to contain COVID-19, we have remained vigilant in our care for our residents. We are still guided by our long-standing commitment to be there for the most vulnerable in the Virgin Islands community — meeting their needs while helping each other survive these circumstances.
Our children are well prepared.

Since the crisis unfolded a few months ago, we have been concerned about its effect on the children and residents in our care. With such a sensitive and vulnerable population, even minor changes in their routines have the potential to increase their risk of depression and heighten their anxiety. At Queen Louise Home for Children and Sister Emma Cottage, we have created a schedule for the children to engage in a variety of activities, which keeps them imagining, learning and focused.
Their days now begin the same way they begin when school is in session — except instead of heading off to school, they walk to the library to work on their virtual assignments or tutoring. At first, they had difficulties adjusting to the new routine, but most are now doing well and even looking forward to online school every day. Some have even wondered whether they can "keep this going forever!"
After lunch, the children — including the little ones — pull out their board games or rush to the living room to snuggle up for a movie. We follow up their activity with a guided discussion to help them think critically and identify what they learned — from social skills and virtues to dealing with bullying or peer pressure.
Once we have had a good discussion, we jump right into an afternoon of arts and crafts or outdoor activities, which include much-loved games and sports. By the evening, they are eager to show off their homemade projects to staff members or running around the dinner table, reminiscing and laughing hysterically with one another over the games.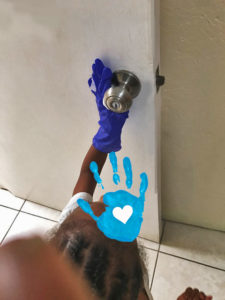 This crisis has been particularly effective in helping the children understand the importance of good hygiene and living skills. Our residents are learning and demonstrating a newfound diligence in keeping themselves safe, but one of our youngest residents, a 4-year-old girl, has taken her carefulness to a new level.
She does not fully understand what the crisis is, but she understands that everyone is afraid of getting sick. She knows germs "make you sick" and she understands that she needs to use special wipes to take the germs away. So, she patrols the Cottages, wipes in hand, sanitizing both things and people, and she is not the least bit shy in showing everyone how the cleaning should be done. Her diligence has brought both a welcome levity and collective thoroughness to Queen Louise Home, and we feel a lot safer knowing that the children are well prepared.
Our residents are sheltered and supported.
Although our housing communities are classified as independent living sites, we recognize that our residents need help focusing on their safety during this time. For our senior and residents with disabilities, social distancing has the potential to increase their feelings of loneliness, helplessness and fear.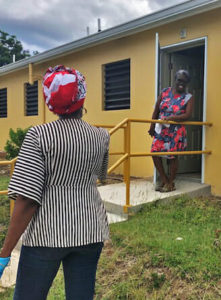 We have encouraged them to limit the number of guests they bring into their homes, and our AmeriCorps members visit and encourage each resident to make sure that no one feels alone or afraid.
We work with residents to ensure they have enough disinfecting supplies and protective items to help limit their exposure. Our AmeriCorps and staff members make routine check-ins to assess their food and living supplies, and they gather up shopping lists once a week and head to the grocery store to pick up a few of their most needed items.
We are also grateful for the community partners who provide hot meals for those who desire the assistance, and we have had such positive outreach from friends everywhere who want to lend a helping hand.
Our staff members are committed to compassion.
There is no question about our staff members' commitment to the people in our care, and we are doing our best to keep them safe and provide them with all they need to stay healthy.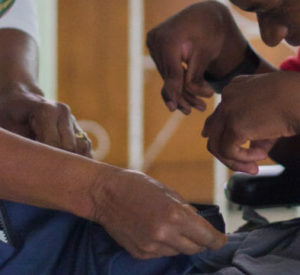 Each day our caregivers and staff members show up with love and compassion and give our residents peace of mind — even in these uncertain times. Their love and dedication shines brighter every day, even as many face considerable disruptions in their lives.
We were heartbroken when Diane*, an amazing direct care worker at Sister Emma Cottage, made the difficult decision to step away from her service. With the Territories' schools closed indefinitely and her aging mom unable to help care for both of her two autistic children, Diane is doing what is best for her family.
We miss her energy and nurturing love for our children with disabilities at Sister Emma Cottage, and she misses the children who were in her care every day. We hope and pray that she can return when schools reopen and continue to bring hope and love to our residents, but we see and feel just how much she and the rest of our community are struggling.
You are the energy of good that keeps us going.
I am incredibly touched by your commitment to our work and that you have chosen to stay on this difficult journey with us. I have received phone calls, emails, and drive by check ins from friends all wanting to know how we are doing, and I know you share the same concern.
Thank you for caring for us. As we move through these uncertain times, we are so grateful to know we are not alone and we hold out hope that your love will remain with us through this time.
Our prayers are for you to have all the love and resources you and your family need to make it through, and that each day brings you new hopes for your future.
Thank you for hanging in there with us. We are safer together.
With love,
Junia John-Straker
Chief Executive Officer